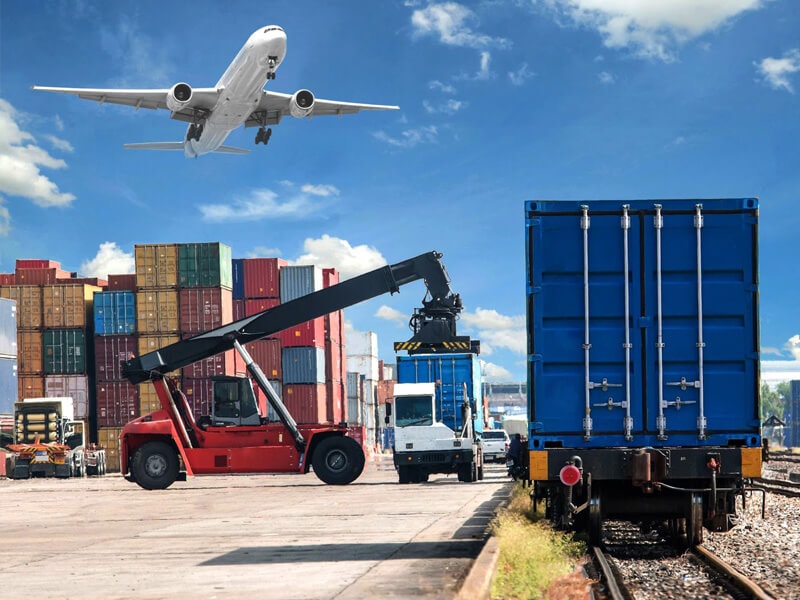 The landscape of logistics solutions is constantly changing, and the last 15 years have particularly affected the function of logistics operators in retail.
Today's logistics model
Nowadays, a logistics operator is more than an outsourcer; it is much closer to a business partner assuming obligations in the area of warehousing and distribution of goods.
It often offers services such as logistics process development, warehouse design with location selection, inventory storage and management, packaging and repackaging, labelling and minor repairs, B2B and B2C order processing, returns and complaints handling, and ordering (including management) of marketing materials and packaging.
As you can see, the list is long – although it wasn't always like that. Since when has the scope of operator service been shaped in this way? What made the changes necessary? And what directions of development can be predicted on this basis?
A short lesson in logistics history
The last 50 years have seen dynamic development of various logistics solutions. What are the most important events in the history of logistics in recent decades?
Logistics 20 years ago.
What did the logistics landscape look like at the beginning of the 21st century? E-shops were not many and were not yet a popular sales channel; the Allegro platform took its first steps, and foreign entities were much less interested in investing than they are today, having insufficient Internet penetration and access to computers.
Therefore, the vast majority, or almost all, of logistics operations were related to the B2B market: sending goods to shops, wholesalers or other distribution points.
Decentralisation and unemployment
In the first decade of the 21st century, the conditions on both the labour market and the warehouse space market were completely different.
First of all, in this period there was several times less warehouse space in Poland than at present – it is estimated that in 2004 it was only 1.9 million sq – while nowadays companies can use as much as 16.3 million sq. An intensive increase in warehouse space was observed in the years 2004-2008 and from 2015 up to and including today.
What is more, less numerous warehouse spaces were often owned by companies producing or importing goods – which is why they were most often located at the company's offices, not necessarily in the logistically most convenient locations.
A completely different atmosphere prevailed also in the labour market. The unemployment rate registered in Poland in the first years of the 21st century was high and reached a record high of 20% in 2002 and 2003[2]. At that time, there were no problems related to the lack of warehouse workers on the market – completely different than today.
Technology of the first decade of the 21st century
It should not be forgotten that the landscape of technological possibilities at that time was different from the technologies used today. WMS (Warehouse Management System) already existed, but still did not have many improvements known today.
In order to properly handle warehouse processes, it was necessary to perform many activities related to paper completion – for example, entering data from documents into spreadsheets and other data management applications.
Of course, some companies, and thus warehouses, have already used barcodes, which significantly facilitated the receipt of goods and order picking – although there have been cases in which it was necessary to manually record activities in paper documents as a confirmation of task execution, e.g. moving items on a pallet. RFID technology, which greatly facilitated the current processes, was then "in its infancy".
Shopping malls shape B2B logistics
Regardless of the previously described historical background of logistics, market changes in retail trade also turned out to be a major breakthrough for logistics operators. The emergence of supermarkets, discount stores and shopping centres and the relocation of a large part of traditional trade required operators to adapt to new expectations.
What was new was not only the strict delivery hour requirements of the shopping centres, but also the small storerooms at the stores. Due to the lack of space in the stores for additional operations (pressing, packaging, foiling), operators had to introduce a wide range of VAS (Value Added Service) services and take them over from their customers properly and smoothly.
E-commerce launches a revolution
However, the real revolution for logistics turned out to be the dynamic development of e-commerce. Logistics operators undertaking e-commerce services had to prepare for numerous changes in warehouses to handle often small orders and B2C shipments – often in large quantities.
Thus, extensive changes were introduced in the organization of warehouse space, employment and employee management, as well as processes, technologies and systems.
As a result, some warehouses have transformed into mega distribution centers servicing thousands of shipments per day. It is hardly surprising that many operators are interested in servicing the e-commerce market – with the value of the Polish market amounting to PLN 51 billion and growth reaching 18% year on year, we have become one of the most dynamically developing e-sales markets in Europe.
Organisation of the warehouse
In the case of B2C warehousing, the classic "high storage" solution does not work – therefore, warehouses dedicated to e-commerce had to be redesigned so that employees could easily pick, complete and pack goods.
In addition, the increasing expectations of customers of logistics operators and consumers themselves resulted in the emergence of new elements of the offer within the warehousing and distribution services.
New technologies
New technologies, which have dynamically changed warehouse processes over the last fifteen years, have come to the aid in the transformation of the offer of logistics operators.
Below are some examples of several technological innovations in warehouses.
WMS Development. Thanks to increasingly improved warehouse management systems, it was possible to reduce "paperwork" and thus accelerate warehouse processes and avoid human errors.
Integration of operators' and customers' IT systems. Thanks to this, the end customer can, for example, know the availability of goods in the warehouse in real time.
Implementation of RFID systems. Radio technology identifying goods in the warehouse has significantly optimized the key processes of receiving goods, picking or inventory.
Pick-by-voice, pick-by-light and pick-by-vision systems. They not only speeded up the picking process, but also facilitated the tasks of the picking staff.
Automation of warehouse processes, e.g. belts carrying completed products for packaging or automatic sorters sorting parcels to different countries or to different couriers.
Warehouse robotization, i.e. the implementation of robots – at the moment performing the most repetitive activities.
Testing drones within the distribution process.
Customers expect 5PL
E-commerce expects logistics operators to take over new tasks in order to fully focus on the core of their business. There was a need for a partner who would take care of all operations in a holistic way. This model of cooperation with the operator is called 5PL.
In the 5PL model, the outsourcer not only manages all the processes of transport, warehousing and distribution of goods, but thanks to the system integration of many business functions in a virtual place, he can take care of e.g. handling Internet payments or communication with the end customer. Such services certainly make it easier for e-shops to concentrate their activities around the sale of products.
Direction of change
The last 15 years of logistics have been associated with dynamic changes. Logistics operators had to adapt their services to changes in the economy, changes in the labour market and the expectations of customers – companies and consumers. Thus, they had to implement new technological solutions to ensure even faster and cost-optimized logistics of the highest quality.
The question remains, what changes await us in the future. On the basis of historical changes known to us and current market trends, we can try to predict a few changes that probably await us.
Logistics have been gradual, only sudden increases in e-shopping made it necessary for logistics operators to rapidly accelerate changes in processes and warehouses to deliver the expected quality and efficiency. The e-commerce revolution triggered an openness to change in logistics, a willingness to test new technologies and the ability to look to the future.